2019 Post-Herbicide Treatment Aquatic Plant Survey Results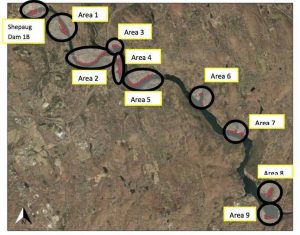 Report Comments:
"Comparison of the pre-treatment and post-treatment survey data suggests that the treatment reduced, but did not eliminate, milfoil in nearly all treatment areas. Milfoil frequency in the treatment areas reduced by 15% to 57%. Treatment Area 3 is the only area in which milfoil frequency increased between the pre- and post-treatment surveys. In addition to a reduction in frequency, the density of milfoil within plant beds reduced in most treatment areas. 
In past years, the northernmost sites, Treatment Areas 1B and 1, have been more difficult to control with targeted herbicide treatments likely due to increased water flow at these sites. It appears that the treatment did reduce milfoil in both of these sites in 2019, although Treatment Area 1 saw only a moderate decrease in milfoil frequency and density. 
Curly-leaf pondweed was found only in Treatment Areas 1B and 2. However, as discussed in the Survey Results, this nearly complete eradication is likely due to the natural early die-off of this species. 
Brittle naiad was found in five of the ten treatment areas during the pre-treatment survey. Post-treatment, this species was found only in Area 1, at a single waypoint."