Lake Zoar Boaters Are Encouraged
to Use VHF Radios
According to the US Coast Guard, a "VHF marine radio is the single most important radio system you should buy. It is probably also the most inexpensive." The Lake Zoar marine patrol boat is radio equipped, with constant shore contact via VHF Radio Channel 16. Affordable marine radios like the suggested unit below can be purchased easily on Amazon (this is not an LZA endorsement).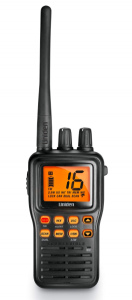 Uniden MHS75 Waterproof Handheld 2-Way VHF Marine radio
$89.09 on Amazon as of July 2020
–
–
The following publications are helpful when choosing a radio:
–
–

POST DATE: FRIDAY, JULY 06, 2018
Aww, summertime … sunshine, flip flops and shorts! After a long winter most of us are eager to head to the beach, slap on some sunscreen, put the boat in the water, jump in and begin enjoying everything that makes summertime great. And why not? We have awesome lakes and waterways that are the envy of many.
All that said, every year we forget that our beautiful lakes and waterways have a dangerous side that demands respect. There is nothing scarier than being out in the middle of a large lake caught in a spontaneous storm in a boat that refuses to start. That's probably why our Coast Guard encourages boaters (especially those carrying passengers), to invest in VHF radios before going out onto large bodies of water, where the shoreline is barely visible. In an emergency, a marine radio can be your lifeline back to the safety of shore.
While your cellular phone might be great for all sorts of things, being out in the middle of a large lake isn't one of them. Mobile network coverage out on the water can be spotty, the device isn't waterproof or buoyant, it can't transmit your coordinates, doesn't get weather alerts or have Digital Selective Calling (DSC) features, which is one of THE most important emergency features on marine radios.
Radios with DSC are encoded with a unique nine-digit identification number known as a Maritime Mobile Service Identity (MMSI1), which is much like a cellular telephone number. So, you can make private calls, but when faced with an emergency, your DSC radio lets you make a MAYDAY call by simply pressing the "Distress" button. When connected to a GPS receiver, your MAYDAY message will include your exact coordinates and will identify who you are (remember your MMSI number) to all DSC radios in range, facilitating a faster rescue.
Marine radios come in two (2) basic models: handheld units and fixed-mount units. Aside from the obvious physical differences in size, portability and charging options, both units offer similar features and functionality. It really comes down to preference and range.
Handhelds are limited to 6-watts of transmit power with a lower line of sight antenna (4.83 to 12.87km range), while fixed-mount units can transmit with 25-watts of power and have a higher line of sight (24.14 to 32.19km range), because of the antenna length and its mounting height. However, if you are never going to be more than a few yards offshore, a handheld or even your cellular in this instance, will work just fine.
Features to look for in a Marine Radio:
1. Digital Selective Calling (DSC)
2. 25-watt transmit power (5-watt for handheld models)
3. All legally allowed International-Canadian-USA channels
4. Weather alert tones; weather channels
5. Large display, easy-to-read LCD
6. Visible transmission indicator
7. Dual or triple watch, memory scan mode, battery save
8. Waterproof/submersible and dust resistant
9. Emergency alert or distress button
10. Man Over Board (MOB)
11. Noise-cancelling ability
12. External speaker/headphone connection
–
–
Full Article Available at: https://www.prairiemobile.com/Prairie_Mobile_Blog/staying-safe-on-our-lakes-waterways
–
–

Radios That You Need
Before you purchase anything else, make sure you have a VHF marine radio. A VHF marine radio is the single most important radio system you should buy. It is probably also the most inexpensive. If you plan to travel more than a few miles offshore, plan to purchase an MF/HF radiotelephone or mobile satellite telephone, an emergency position indicating radio beacon, or EPIRB, and a second VHF radio or cellular telephone as well. Mobile satellite telephones are becoming more common and more inexpensive. The mobile satellite will provide easier and clearer communications than the MF/HF radiotelephone, but the HF radiotelephone will receive high seas marine weather warnings.
Radio Watchkeeping Regulations
If you have a VHF-FM radio, there are certain regulations in place for monitoring/listening to your radio. Please read our radio watchkeeping section for more information.
Mayday! Mayday! Mayday!…Sending a distress call
You may only have seconds to send a distress call. Here's what you should do:
Procedure for Digital Selective Calling (DSC) Radio: DSC MAYDAY
Procedure for VHF Channel 16 MAYDAY:
If you have a VHF marine radio, tune it to channel 16. Unless you know you are outside VHF range of shore and ships, call on channel 16 first.
Distress signal "MAYDAY", spoken three times.
The words "THIS IS", spoken once.
Name of vessel in distress (spoken three times) and call sign or boat registration number, spoken once.
Repeat "MAYDAY" and name of vessel, spoken once.
Give position of vessel by latitude or longitude or by bearing (true or magnetic, state which) and distance to a well-known landmark such as a navigational aid or small island, or in any terms which will assist a responding station in locating the vessel in distress. Include any information on vessel movement such as course, speed and destination.
Nature of distress (sinking, fire etc.).
Kind of assistance desired.
Number of persons onboard.
Any other information which might facilitate rescue, such as length or tonnage of vessel, number of persons needing medical attention, color hull, cabin, masks, etc.
The word "OVER"
Stay by the radio if possible. Even after the message has been received, the Coast Guard can find you more quickly if you can transmit a signal on which a rescue boat or aircraft can home.
For example:
MAYDAY-MAYDAY-MAYDAY
THIS IS BLUE DUCK-BLUE DUCK-BLUE DUCK WA1234 MAYDAY THIS IS BLUE DUCK
CAPE HENRY LIGHT BEARS 185 DEGREES MAGNETIC-DISTANCE 2 MILES
STRUCK SUBMERGED OBJECT
NEED PUMPS-MEDICAL ASSISTANCE AND TOW
THREE ADULTS, TWO CHILDREN ONBOARD
ONE PERSON COMPOUND FRACTURE OF ARM
ESTIMATE CAN REMAIN AFLOAT TWO HOURS
BLUE DUCK IS THIRTY TWO FOOT CABIN CRUISER-WHITE HULL-BLUE DECK HOUSE
OVER
Repeat at intervals until an answer is received.
If you hear a distress call…
If you hear a distress message from a vessel and it is not answered, then you must answer. If you are reasonably sure that the distressed vessel is not in your vicinity, you should wait a short time for others to acknowledge.
–
–
Full Article Available at: https://www.navcen.uscg.gov/?pageName=mtBoater