by Katrina Koerting
Sep. 7, 2020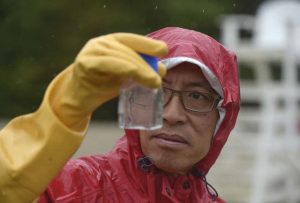 Professor Ed Wong, Western Connecticut State University, looks at a water sample from Lake Zoar at Jackson Cove Park, in Oxford, Conn, on Wednesday morning, September 2, 2020. Wong is monitoring cyanobacteria (blue-green algae) in the lake.
Photo: H John Voorhees III / Hearst Connecticut Media
"Toxic blue-green algae in local lakes popped up as normal this summer, but fewer blooms in recent years have left researchers searching for answers.
Blooms of cyanobacteria, or blue-green algae, were reported on a number of lakes, though Candlewood Lake continues to be relatively clear. The blooms have become a concern in recent years as more research is uncovered about the potential toxicity and dangers the cyanobacteria can pose to animals and people, ranging from skin irritation to death.
"Lake Zoar is starting to show some pretty interesting things again," said Edwin Wong, a Western Connecticut State University associate professor studying the cyanobacteria toxins.
Wong leads a research team that collects and analyzes water samples from beaches on Lake Zoar, Lake Beseck and Candlewood. The weekly tests wrapped up for the summer last week.
Numbers for Jackson Cove in Oxford and Eichler's Cove in Newtown, both on Lake Zoar, have had higher levels of toxins in recent weeks, though still below the new federal limit of 8 parts per billion. The limit changed last year from 4 parts per billion.
"There's always concerns about low-level exposure," Wong said, adding there's research showing cyanobacteria may cause dementia or brain damage.
Blooms have also been reported on Bantam Lake, Rainbow Reservoir, Lower Bolton Lake, Middle Bolton Lake, Lake Lillinonah, West Thompson Reservoir, Lake Pocotopaug, Roseland Lake, Long Meadow Pond and numerous small ponds, said Will Healey, a spokesman for the state Department of Energy and Environmental Protection.
"This year is about the same as last year and about what we have been seeing for the last several years," Healey said.
Research is still evolving on what causes the blooms, but weather, nutrients entering the water and the type of body of water are all factors scientists suspect for why some spots continue to see blooms while others are clearing up.
The blooms tend to appear when the summer is hottest and there is little breeze. The cyanobacteria thrive in these conditions because they can regulate their buoyancy within the water column and soak up the sun near the surface.
The big outstanding mystery is why last year was so quiet in Connecticut despite lakes across the country resembling pea soup and dogs dying shortly after swimming in blooms.
"Last  year in 2019, everyone went quiet," Wong said. "We're going to dig deeper into what happened in terms of activity."
Another unknown is whether the coronavirus has had any impact on this year's blooms.
"There may be reports from lakes that would not have been reported due to more people recreating outdoors," Healey said.
Wong said there's a chance the virus could have altered people's behaviors that would have an indirect effect on the blooms in either direction.
He suggested people might be fertilizing their lawn more since they are home, which could increase nutrients entering the water through runoff, or they may be occupied and not tending to their yards as much. Being home more might also put more strain on people's septic systems, another way for nutrients to enter the water.
These nutrients are a main food source for the cyanobacteria.
Wong said he hasn't seen much of a difference in toxin levels for beaches around Candlewood Lake that have opened to visitors, compared to those that have remained closed to prevent the spread of the coronavirus.
Downriver
Lakes along the Housatonic River have reported blooms for a few years now, including Lillinonah and Zoar.
DEEP removed Kettletown State Park, which sits on Zoar, as a designated swimming area last year as a precaution because of the constant blooms.
Kettletown's swimming area and other coves are more at risk because it's harder for the water to move around in the outlets, which can also better trap what's coming down stream.
Being on a river also means a greater surface area for runoff to enter the water compared to a lake. Agriculture, plant or septic failures and lawn care upstream can play a bigger role on these lakes, which are more like widened sections of the river than a standalone lake.
Lake Zoar is also behind a dam and prone to collect more of what's traveling in the water.
Some spots on Zoar registered more than 20 parts per billion in 2018 – the worst year by far since Wong started testing. This year, he's seeing numbers at these sites around 4 or 5 parts per billion like in 2017. The blooms are starting to become visible too.
"The things have clumped together and you can just see it under the surface," he said.
Wong said one reason for the blooms starting now could be the recent rain and corresponding runoff, as well as the hot weather.
"We've had some pretty decent storms," he said.
Candlewood Lake
Wong has been studying the toxicity of cyanobacteria for several years. He became interested in the subject after a massive bloom appeared on Candlewood in October 2013. Candlewood hasn't experienced a bloom that bad since, even though its neighbors on the Housatonic River consistently have blooms.
Candlewood's samples are generally coming in at 1 part per billion this summer or far less.
"We've been very pleased this summer by the high water clarity and lack of extensive blue-green algae growth," said J. Neil Stalter, Candlewood Lake Authority's director of ecology and environmental education. While the cyanobacteria isn't gone, we are finding it at the surface much less often this year than we have in the past."
Stalter said the monitoring program with WCSU has "only found extremely low levels" of the cyanobacteria toxin during the past two years, never reaching a concerning level in Candlewood.
"We've had very few blooms the past two years," he said.
One theory for why Candlewood's levels are relatively low is because it's such a deep lake, making it harder for the nutrients trapped in the sediment at the bottom of the lake to become a food source for the cyanobacteria, Wong said.
Both Stalter and Wong suspect preventing those nutrients from even entering the lake in the first place is more of a factor though.
"While there are a great many things that can impact whether we see algae growth, one of the clear signs we're seeing in our monitoring of the lake is a lack of nutrients (phosphorus and nitrogen) in the surface water," Stalter said.
He said these generally are found in fertilizers and enter the lake when it rains.
"One possible explanation could be a combination of lack of rain and residents around the lake choosing to use phosphorus-free fertilizer, or forgoing fertilizer entirely, that are really helping to prevent large blooms," he said."
Koerting, K. (2020, September 7). CT lakes take a break from toxic blue-green algae. News Times. Retrieved September 8, 2020, from https://www.ctinsider.com/local/newstimes/article/CT-lakes-take-a-break-from-toxic-blue-green-algae-15547690.php