ONLINE FALL 2020 WCSU
LAKE SYMPOSIUM,
MONDAY SEPTEMBER 28, 7PM
LEARNING OPPORTUNITY OPEN TO ALL THOSE INTERESTED IN LAKE MANAGEMENT
–
***If you've been concerned about the green water in Lake Zoar and the information the LZA receives from the scientific community and regulators regarding cyanobacteria and invasive weed control, this opportunity is for you.***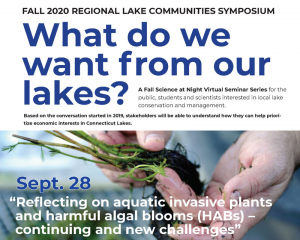 Custom link will be emailed on day of talk.
Invited lake community representatives: Candlewood Lake Authority, Lake Housatonic, Ball Pond, Lake Zoar, Lake Lillinonah, Lake Waubeeka and others.
7 p.m. – Larry Marsicano, Aquatic Ecosystem Research LLC, WCSU Limnology Instructor – Welcome address to introduce the topic and facilitate the conversation.
7:10 p.m. – Carl Brussells, Chad Holbrook, and Casey Welch Moorer, Aquatic Plant Control Program, Santee Cooper, South Carolina – Biological Management of Aquatic Plants
7:40 p.m. – Larry Marsicano will introduce panelists and have them briefly summarize their top two challenges this summer (Dr. Pinou will record in chat box, and identify top three issues shared by all lake communities; summary to be shared with everyone at end of meeting)
8:20 p.m. – Robbie Mordente, M.S. Integrative Biological Diversity 2022, will describe summer 2020 activities in addressing aquatic plant lake management issues, and introduce Matthew Goclowski, Fishery Biologist with CT DEEP, who will announce RFP and introduce Lake Risk Assessment Educational Instrument
8:45 p.m. – Questions from panelists, to each other, and about RFP and Assessment Instrument
For more information, please contact Dr. Theodora Pinou, professor of Biology, at
Pinout@wcsu.edu
.