LZA MARINE PATROL NOTICE: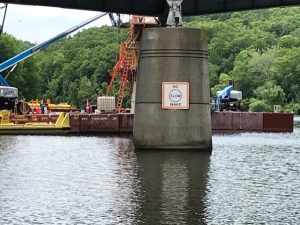 There is current bridge construction under the I-84 Rochambeau Bridge with a construction barge and crew actively working in Lake Zoar. The area is historically not a no wake zone. Prior to construction, it was a two channel crossing. Currently, boaters are warned of the no wake zone by four no wake buoys before the bridge, and a no wake sign on each side of the pier.
–
Noncompliance in the no wake zone presents a safety risk for workers on the barge, as the barge becomes unbalanced, and water can flow over a small damn where crew are working on the other side. Noncompliance also presents a safety risk to boaters who may collide with the barge.
–
Through late May to early June 2021, Marine Patrol received several complaints regarding boaters who are creating wakes near the construction barge. Upon observing the area, marine patrol witnessed several boaters speeding past. Marine Patrol will strictly enforce the no wake zone under the bridge during duty weekends. Boaters are reminded that they must observe the signs and comply.
–
Under Connecticut Law Title 15 Navigation and Aeronautics, drivers are responsible for damage caused by their wake, and speeding infractions can result in an $80 fine. Offenses involving serious damage or injury carry charges of reckless or negligent operation, which can result in a $1,000 fine, imprisonment up to six months, or both.
–
This project began on June 15, 2020, and is estimated to end in December 2023.
 –
IN ACCORDANCE WITH THE LZA, CT DEEP, AND CT DOT, BOATERS MUST SLOW DOWN UNDER THE ROCHAMBEAU BRIDGE UNTIL FURTHER NOTICE